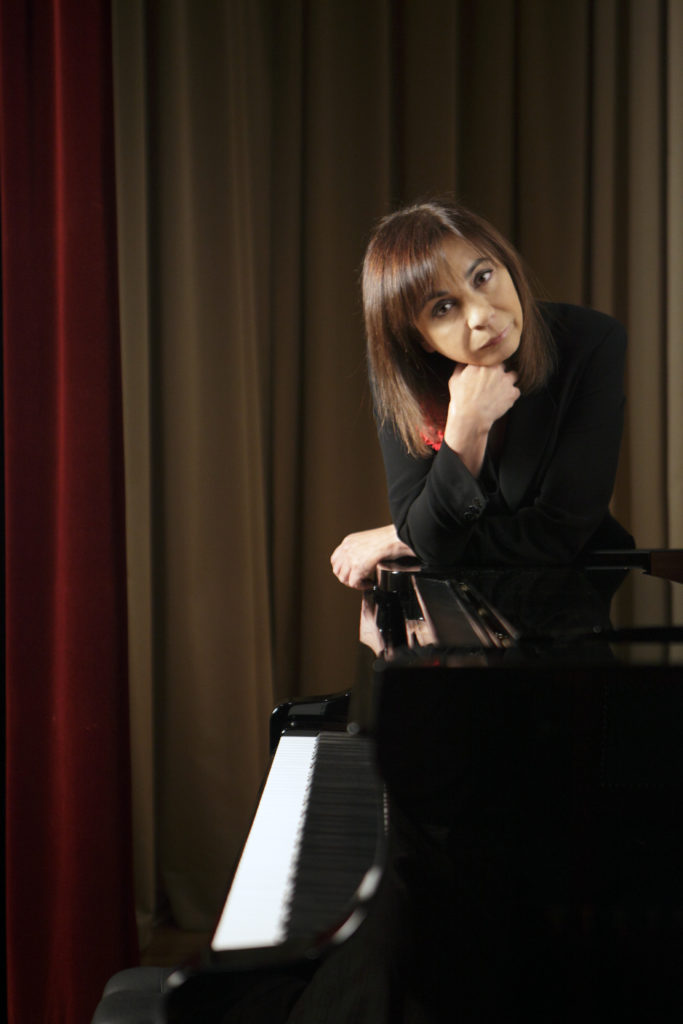 Born in Athens, Alexandra Nomidou started studying music at age 6,
at the Athens Music Conservatory from where she graduated obtaining a first prize in piano and chamber music. 
Under a French Government scholarship, she moves  to Paris
where she perfects her skills under the guidance of Pierre SANCAN and Yvonne
LEFEBURE. Later, invited by the Tanglewood Music Center in the USA, she follows
the Masterclasses of Leon Fleisher and Peter SERKIN, and appears in Tanglewood
Festival concerts.
Her first LP, dedicated to Schumann, her favorite composer, was
warmly received by the music critic of the Diapason magazine, who wrote on this
LP : " Here is a Schumann true to himself……in an interpretation so full of the
poetical richnesse of Alexandra Nomidou…..this young pianist won us from the
very beginning by the surprising maturity of her interpretation, from her clean technique, from the softness of her touch worth of Kempff."
Her numerous appearances across France won her glorious critiques.
In Paris, among other, she plays at the Salle Gaveau, the Halles Auditorium and
the Summer Paris Festival.
Abroad, she has given numerous recitals and chamber music concerts
in England, Belgium, Brasil, Greece, Italy, Turkey, the USA, Switzerland and
Estonia and has played as soloist with the National Athens and Salonica
orchestras, The Symphonic Orchestra of Budapest and did a tour with the Chamber
Orchestra of Norway.
More recently, she premiered the Second Piano
Concerto of Petros PETRIDIS with the Athens National Orchestra.
Avid for new experiences, she has participated to many different
innovations mixing music with prose in Greece as well as in France, notably in
a piece entitled  "Les Chants de l'aube"  based on the correspondence
between Robert and Clara SCHUMANN, that raised the unanimous enthusiasm of the
public and the critics in its many performances in Paris, other regions of
France as well as in Switzerland.
Since 2005, she is the artistic director of the festival "Around
the Piano" in Athens.